Il SUD THE SOUTH
ripubblicazione di originale del 28/12/2019
L' area terra del fuoco / arcipelaghi patagonici del Sud è il cuore del mito dai tempi delle prime esplorazioni fino allo studio e mappatura dei primi '800 (Fitzroy, Darwin), al '900 (De Agostini, scalate Carlo Mauri), il sentimento di libertà per parecchi giovani navigatori (pochi) e aspiranti (molti) degli anni 70.
Finalmente non proprio giovani ci siamo anche noi tutti, con anche  Michela,  che probabilmente ci nasconde la sottoscrizione di   una "macumba" al vento, stipulata quasi con certezza la prima notte; infatti all'alba, dopo un quasi normale colpo di vento a 48 nodi all'ancora, a me viene una colica renale, ma la cosa surreale è che  scompare il vento per un periodo così prolungato che anche veraci (barba intrecciata, bretoni o americani) capitani pendolari dell'antartico dicono non avere mai visto, anche i temuti "williwow" erano inclusi nel contratto!
Partiamo da Punta Arenas il 29 Dicembre   per il Seno De Agostini, lato nord della cordigliera di Darwin, ove per 2 giorni non vedremo tracce di altri umani, non molti animali (queste acque molto  dolci sono meno ricche di pesce), decine di imponenti  ghiacciai, un contatto diretto con una sonnolenta foca leopardo, ed il 3 Gennaio alle 12,20 la "diva" , cioè il monte Sarmiento, ci mostra la sua meravigliosa siluette.
video arrivo Sarmiento
cala sotto monte Sermiento – YouTube
video arrivo Sarmiento
https://www.youtube.com/watch?v=SiPaz83s0Uw
video ormeggio a rischo tzunami
https://www.youtube.com/watch?v=HZU75WYe3wE
A terra si cammina galleggiando su una massa  vegetale di erbe, di minifiori, di una varietà e bellezza particolare, il tutto su fango.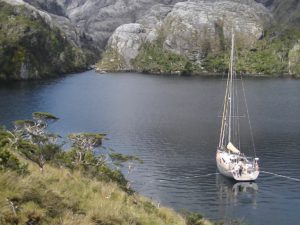 video caleta Brecknock
caleta Brecknock
Interessante la relazione con un giovane falco (Chimango) che adotta Lifexplorer per più di mezz'ora,
falco interessato
foca
Arriviamo a Puerto William in anticipo per fare un controllo alla mia colica,  troviamo Mauro il nostro supporto per la nuova base di partenza di Lifexplorer per i prossimi passi.
ormeggio Micalvi
dentro il Micalvi
Saluti a tutti  biffi giovanni michela mario francis
The South
The Tierra del Fuego area of ​​the Southern Patagonian archipelagos is the heart of the myth from the time of the first explorations to the study and mapping of the early 19th century (Fitzroy, Darwin), to the 20th century (De Agostini, climbed by Carlo Mauri), the feeling of freedom many young navigators (few) and aspiring (many) of the 70s.
Finally, not really young, we are all here too, with Michela too, who probably hides from us the writing of a "macumba" in the wind, stipulated almost with certainty the first night at dawn after an almost normal gust of wind at 48 knots at 'again, I get renal colic, but the surreal thing is that the wind disappears for such a prolonged period that even varaci (braided beard, Breton or American) commuter captains of the Antarctic say they have never seen, even the feared " williwow "were included in the contract!
We leave Punta Arenas on December 29 for the Seno De Agostini the northern part of the Darwin mountain range, where for 2 days we will not see traces of other humans, not many animals (these very sweet waters are less rich in fish), dozens of impressive imposing glaciers, direct contact with a sleepy leopard seal, and on the 3rd at 12.20 the "diva" Monte Sarmiento shows us her wonderful silhouette.
On the ground you walk floating on a vegetal mass of herbs, mini flowers, of a particular variety and beauty, all on mud.
The relationship with a young falcon (Chimango) who adopts Lifexplorer for more than half an hour is interesting,
We arrive in Puerto William early to take a look at the colic, we find Mauro our support for the new Lifexplorer home base for the next steps.
Greetings to all biffi giovanni michela mario francis